Scott Dummitt Gallery
This diorama won a gold standard award at the Ontario Model Soldier Society's annual show and competition in 2012. It was also featured in Toy Soldier & Model Figure magazine and on the Face Book page of Fort York in Toronto. All the figures except for the two native warriors were cast using the Prince August 27th Regiment of Foot moulds and then converted to various poses, and ranks.
"Brock's Last Charge"
On the morning of 13 October, 1812, Major General Sir Issac Brock was awoken by the sound of cannon fire. Racing by himself from his headquarters at Fort George, Brock rode the 13 kilometers to the sound of battle at Queenston. Gathering up the Light Companies of the 49th Regiment of Foot (Brock's former Regiment), and militia men of the 2nd Regiment of the York Militia Brock led a desperate charge to retake the high ground at Queenston Heights. In the ensuing moments that followed Brock was struck in the wrist of his sword arm by a bullet, and then fatally struck in the chest by a shot fired from an unknown U.S. Rifleman. The General died instantly, and while his counter attack failed, the battle was eventually won by his second-in-command Major General Roger Sheaffe.
Diorama Make-up
The figures in this diorama depict the men of Brock's former regiment, the Light Companies of the 49th Regiment of Foot, along with the regimental colours carried and escorted by members of the Battalion Company. Canadian militia men which did not always have proper uniforms are seen dressed in civilian attire and represent members of the 2nd Regiment, York Militia, as well as Captain Runchey's Company of Coloured Men. Also included in this diorama are two of John Norton's Grand River Warriors (Mohawks), whose presence played a vital role in the defeat of the Americans at the Battle of Queenston Heights.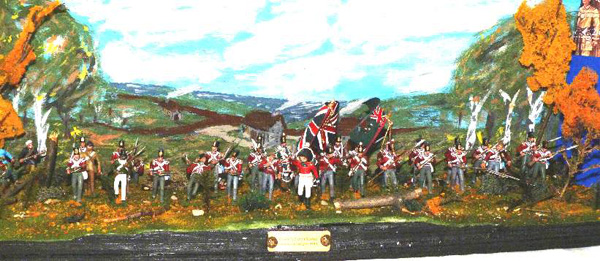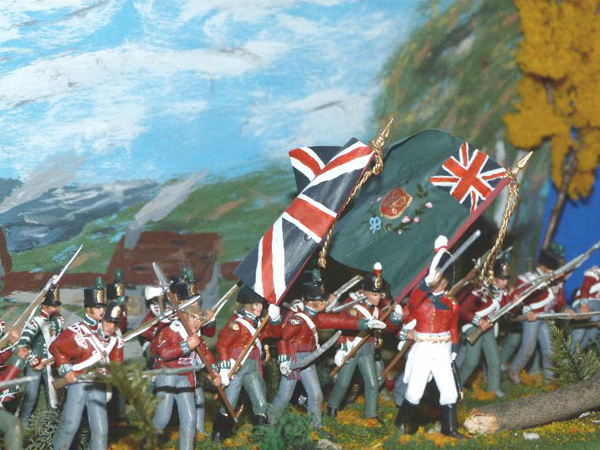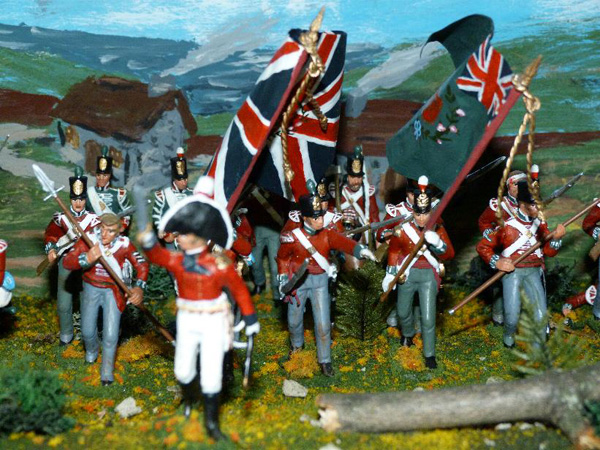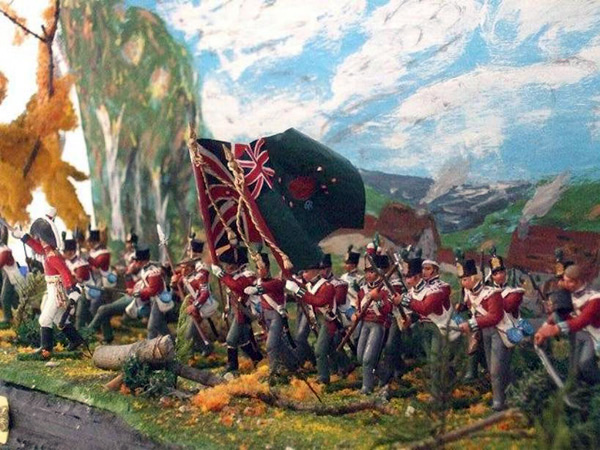 The Canadian Guards circa 1965, Corps of Drum, 1st Battalion – This set was made up from the Prince August 54mm toy soldier mould. The Bearskins were filled out using Mili-putt as were the drum major's sash, drum slings, bass drum apron, and the fife cases. The Snare Drums, Bass Drum, Cymbals, and Fife are all moulded from the Prince August band instrument moulds. The tenor drums are from another company. The tightening rods on the snares and bass drum are brass rod, cut to size and painted. The ropes are made of twisted wire. The display base is made from an old wooden snare drum ring. It was sanded down and repainted to the style that the Guards use to have. The inner display area is railroad grass on a circular piece of plywood. The cap badge is an actual Canadian Guards badge.